Artichoke Olive Tapenade
$12.50
Pantry items will not be sent to Tri-County Produce, Mesa Produce, or Broome St. General.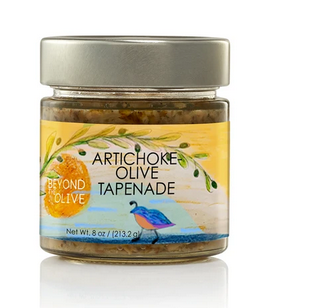 Producer: Beyond The Olive 
Description: A medley of local green olives and artichokes. Fine herbs and spices are added with Beyond the Olive's California EVOO to create this chunky spread. Wonderfully rich and flavorful, it is very pleasing to the palate with a hint of garlic and spices.
Size: 8 ounce jar
Ingredients: Artichokes, green olives, extra virgin olive oil, garlic, spices
Serving Suggestions: Great on pizzas, salads, sandwiches, fish, and chicken. Fold into steaming hot pasta dishes or use as an instant hors d'oeuvre with slices of warm-toasted crusty bread.